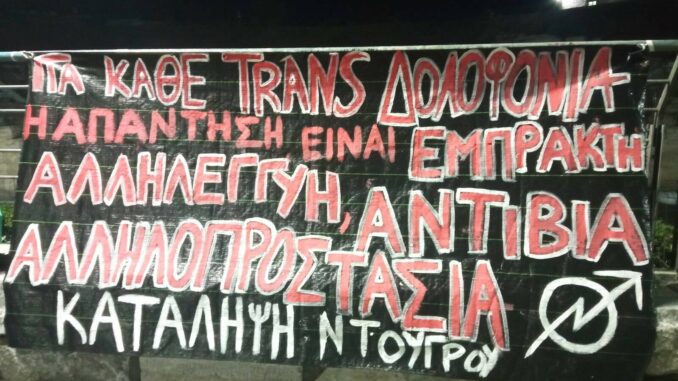 The banner reads:
FOR EVERY TRANS MURDER THE ANSWER IS GIVEN IN ACTION
SOLIDARITY, ANTI-VIOLENCE, PROTECTING EACH OTHER
Ntougrou Squat
Today 25th of November we supported the feminist rally, musical intervention and march in Larissa. We put up a banner on the fencing of the main ancient theater in Larissa, in relation to the internation trans day of rememberance at the 20th of November. Bellow is the announcement of the squat that has been posted in Greek and now in English.
Trans day of counter-memory
The 20th of November is established to be the international trans day of rememberance, this day is dedicated to the murderered trans and gender non-conforming people, every year. Gendered violence is imprinted upon our bodies in the most violent of ways, because, as trans people, we embody the fundamental disputation of gender paradigms and cis-hetero-patriarchal normality.
While we recognise the value of mourning, we don't choose to focus on this day on a list of the names of the murdered. If some conditions murder directly there are so many more that make life not worth living. Like in every other social category, a cohesive factor is the class standing of each person. We see trans folk with priviledges that don't face at all or don't face nearly as many obstacles in their daily lives, access to the almost non existent(for the whole of society) state infastructure, in making ends meet, in social interaction and more. At the same time, the state strikes the most vulnerable of the trans community, trans women sex workers who either by simple choice, or out of need to survive have chosen this type of work. We have seen this characteristically in the operations that the police of Thessaloniki did in 2013, arresting trans sex workers in mass.
Anti-violence (or counter-violence) often, if not always is the only way for our murdered siblings to be "vindicated", and so we propose it as a mean to channel our rage. We recognise every struggle against oppression and exploitation as a common battlefield and we have intersectionality as our tool, meaning the approach that recognises the entanglement of authority and the "stacking" of oppression (for instance , black trans women are the biggest percentage of trans murders).
In the face of the violence we receive daily and irrevocably by the state, patriarchy and every type of authoritative structure and relation we choose to answer with anti-violence, to stand in solidarity with each other, to build practices and relations that help us protect each other. All this requires consistency, effort and many mistakes that will be made along the way. But, unfinished networks and occasionaly tense relationships are better than individualism and isolation. We try to build something forbiden by what exists, inside it and despite it. We call every person that is not ok with "this is the way things are so what are we to do?" and those (that have understood) that have nothing else to lose, to come and build together, the home that will fit us all inside (and all other possible homes as well)
NEITHER TRANSPHOBIA, NOR SEXISM
SPRAY FOR SELF DEFENSE AND TRANSFEMINISM.
FOR EVERY TRANS MURDER THE ANSWER IS GIVEN IN ACTION
SOLIDARITY, ANTI-VIOLENCE, PROTECTING EACH OTHER.
Ntougrou Squat